PENDULUM BASICS:

First things first, BAITCASTERS NOTE: If you value the skin on your thumb, WET the line in your reel with fresh water, Just before you cast.

Now for how it's done. You simply swing your bait in a circle before casting...BACK...UP...and AROUND, As the bait comes down past your rod...THEN you load your rod and cast from 50 - 75 yards farther than normal. The secret is MOMENTUM instead of loading from a stand still you are loading on a moving bait..."LOAD" means the , moment you start to swing your bait out to the water. Watch the fisherman in the following animation below...

THE STANCE:

The stance is a little different from your normal stance, You stand with your back at an angle towards the water. Your rod is at the same angle, But your swing is done in a circle (behind you) Note the blue line in the drawing indicating the swings position. Sounds strange but it will send your bait directly into the surf. With a little practice, You should eventually hit the third Gut from the beach.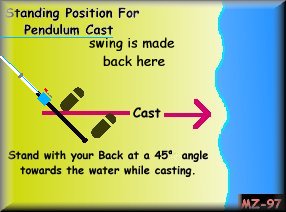 Draw a line in the sand like the red one in the diagram if you have to!
TIP:
If you're "Right handed", your right toe and left heel are on the line,
or "Left handed", Left toe & right heel