To thread the corn or a boilie onto the tag end of a "hair rig", one uses a bait needle, which you can also make yourself. Simply take a small diameter sewing or tapestry needle, and with a pair of wire cutters, clip out a section of the eye, leaving a j-shaped hook, as shown below.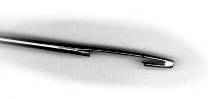 For the handle, use a short section of dowel rod about the diameter of a pencil, bore a small hole in the end, and superglue the pointed end of the needle into the hole. You can even use the needle as the drill bit.

The handle can then be dipped in lacquer to seal the wood. Now you're ready to bait the hair rig.