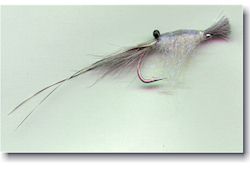 Jay's Grass Shrimp
A highly realistic and effective surf pattern from Jay. This fly is a beauty and has accounted for many, many enjoyable outings off the beaches.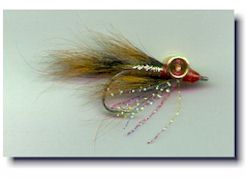 Jay's Rusty Squirrel Clouser
Jay's highly effective in the surf pattern that is fast becoming a favorite go to fly along the California, Oregon, Washington and Baja Beaches.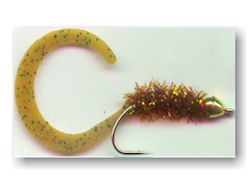 Jay's 10-40
Another of Jay's excellent creations that mimic invertebrae (sandworms) found in the surf zone. Lots of appeal to hungry Perch, Halibut and Starry Flounder.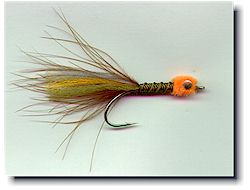 Ken Hanley's Surf Grub
Ken Hanley has developed a number of highly effective Surf Perch Patterns and this is one of the best. The bright Orange chenille head is the perfect trigger for perch feeding on egg-laden Pacific Mole Crabs. A Must have pattern off the beaches here.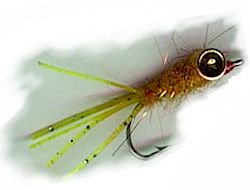 Jay's Brite Blend Dredger
Great pattern for those rough days. Stays down in the zone and the seductive motion of the sili-legs is irresistible to all species of fish that call the surf zone home.

Thanks To The SJFS For The Photos